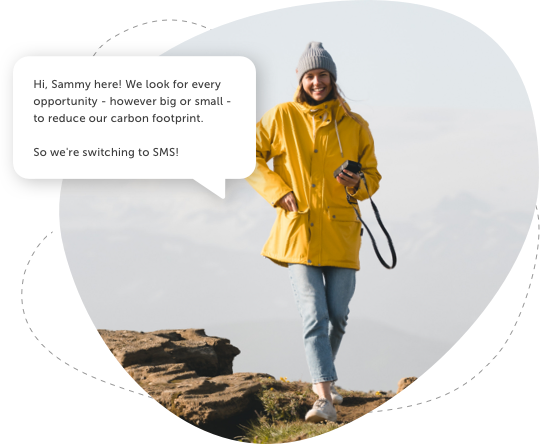 Carbon-conscious campaigns 🌍
Did you know SMS is already one of the lowest carbon channels?
It's one of many reasons why businesses across the UK use our powerful platform: to send meaningful messages, and leave little trace on the planet in the process.
Despite the small carbon footprint of SMS, FireText is on a climate mission to reduce and offset emissions. So our platform is not only secure, but sustainable too.
0.00432g CO2e
per SMS message
That's how small the carbon footprint of a FireText message is. We combined the entire energy of our data centres and an SMS journey from network to phone1. To put this figure into perspective, your average Americano2 produces 87g CO2e.
Supported by environment experts at:


FireText's Footprint
To leave no stone unturned, we identified every possible source of carbon we emit as a company. From our daily commutes to coffee. See what we're doing to reduce and offset our emissions...
Our plan to reduce carbon emissions
We know that before offsetting emissions, it's vital to prioritise reducing our carbon footprint. We've put together a realistic plan for what we can do to reduce our carbon emissions further going forward. Our key targets include:
Go carbon negative
Become carbon negative by offsetting more carbon emissions than the business produces - by 150% every quarter from 2022 and beyond.
Have key conversations with suppliers
Continue to communicate with key suppliers annually (e.g. mobile networks & data centres) on ways to keep reducing carbon emissions, offset the emissions they produce as the last option.
Make a bigger impact with our climate champion
Appointment of a 'climate champion' in Q1 2022, who will regularly touch base with the team to keep us on target, and make sure we're doing everything we can to make progress — from environmental impact training and activities to regular 'climate' catch-ups.
No paper allowed
No printing, unless absolutely necessary.
Advocate for more energy-saving measures
Consistent research on opportunities to reduce our carbon emissions - such as the advocacy of 'green' energy tariffs in our shared offices.
View Our Environmental Statement
1. Using combined figure of average energy consumption of FireText's data centres, in fact we even took an inflated approach to be sure, and the transmission energy of an SMS through the networks as specified by Ericsson (2020). 2. "How Bad Are Bananas?" (2020 Edition) - Mike Berners-Lee.