Why FireText?
---
Send individual SMS text messages or large-scale communication campaigns to patients or hospital staff with FireText SMS for the NHS. If you're sending timely appointment reminders, instant test results or health awareness campaigns, using the FireText SMS service will dramatically increase attendance and save you valuable time and money
No set-up costs
No monthly fees
Easily manage budgets with sub-accounts
Quick, same day account turn around
Easy top-up by credit card
Low credit alert thresholds
G Cloud SMS supplier
NHS Mail SMS replacement service
Integrates with many healthcare software platforms
Amazing customer support
Trusted & Secure
---

Email to SMS
With FireText you can send instant SMS text messages via your existing NHS email software client. You can receive SMS messages into your inbox too. The perfect NHS InMail replacement service.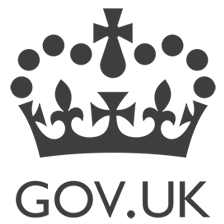 G Cloud Supplier
We are a G Cloud accredited supplier of SMS services and use only the highest quality UK Tier-1 connections to deliver your message...instantly.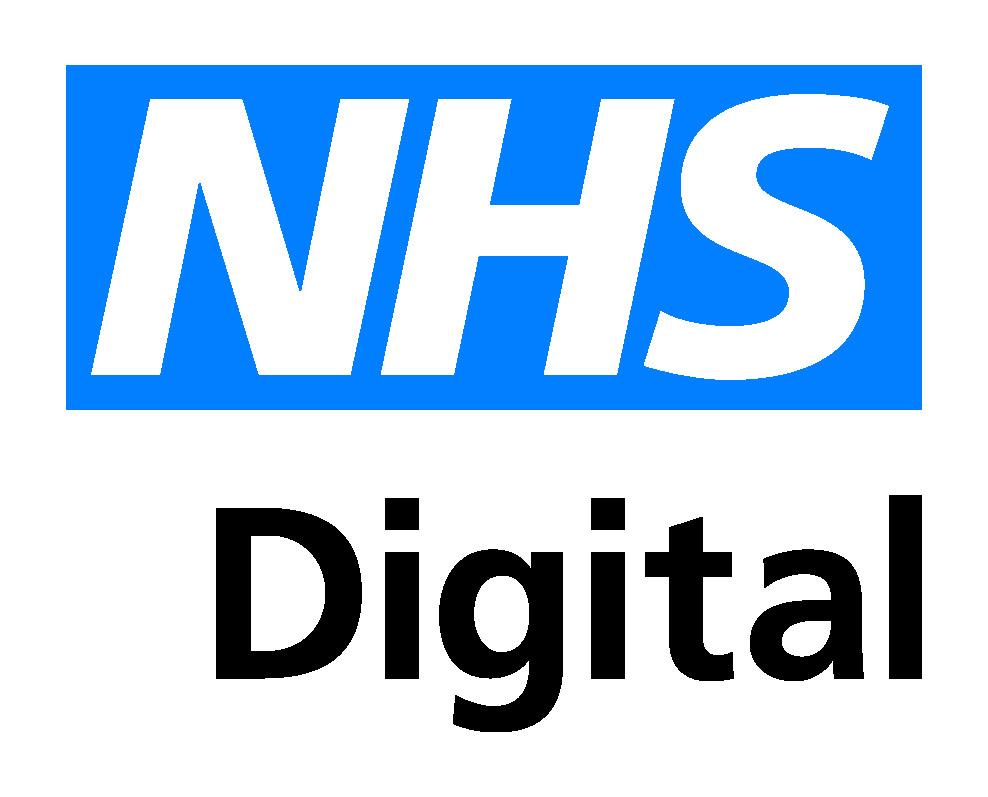 DSP Toolkit
We are the first and currently only, SMS supplier accredited on the NHS Data Security and Protection Toolkit.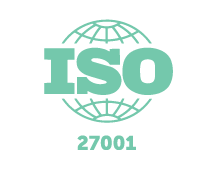 ISO27001
We take data security really seriously at FireText and are ISO27001 certified in order to meet our strict due diligence for security and redundancy.

Our partners MJog have supported healthcare providers to deliver digital patient communication for over 16 years. MJog annually send over 160 million SMS messages, meaning that more than 1 in 3 of the population would have received a message sent via their software.
Working across GP Practices, Community Health and Hospital Trusts, over 3,600 sites benefit from the multiple channels that MJog offers. These channels include SMS, voice, email, and MJog Smart which deliver appointment reminders and healthcare related messages into their app, MJog Messenger.
IGSoC 14.1 approved with a rating of 100%
Their own N3 connection approved by HSCIC
ISO27001:2013 accredited
GPSoC Lot 2 framework
Part of the GP Five Year Forward View for digital transformation enabling patients to greater patient access and more efficient use of clinician's time.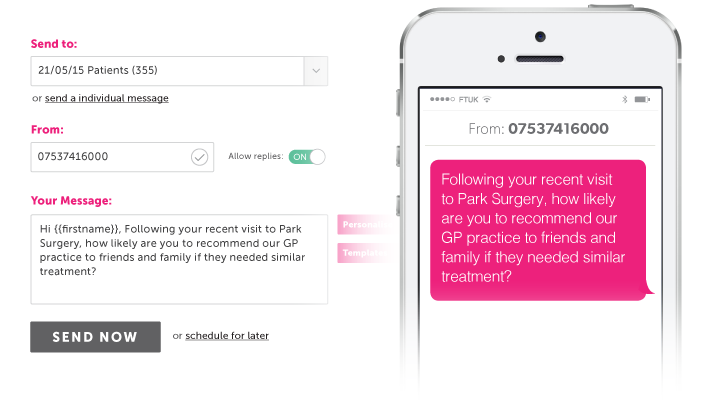 Friends & Family Test
Use quick and easy SMS messages to ensure your practice meets the NHS Friends & Family requirements. Send text messages to gain feedback from your patients and responses to the Friends & Family question.
Reduce No-Shows
Send timely appointment reminders or instant test results, using the FireText SMS NHS service to dramatically increase attendance and save your practice valuable time and money.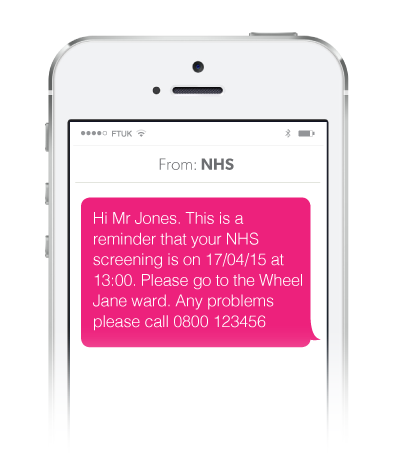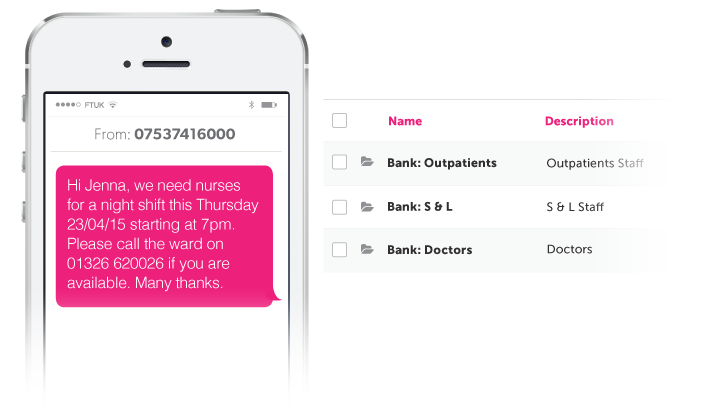 Bank Staff
Keep in touch with bank staff via SMS and update them about available shifts, new rotas and information changes to ensure they are kept informed. Save valuable time and communicate with all bank staff with a single text message.
There's a ton included!
FireText have a large range of features, some of which are turned on by request - we make complicated systems a thing of the past!
Standard
Enterprise
Highlights
Web App

✔

✔

Dedicated Reply Number
£5 per month
Keyword on 82228
£12 per month
Developer API

✔

✔

Email to SMS

✔

✔

3rd Party Integrations

✔

✔

Friendly & Helpful Phone, Email & Chat Support

✔

✔
| | | |
| --- | --- | --- |
| Sending SMS | | |
| Bulk Group Messages | ✔ | ✔ |
| Individual Messages | ✔ | ✔ |
| Personalisation Merge Tags | ✔ | ✔ |
| Send From Brand | ✔ | ✔ |
| Send From Reply Number | ✔ | ✔ |
| Schedule Messages | ✔ | ✔ |
| Repeat Messages | ✔ | ✔ |
| URL Tracking | ✔ | ✔ |
| Editable Templates | ✔ | ✔ |
| Time-limited Messages | ✔ | ✔ |
| Message Reports | | |
| Full Delivery Reporting | ✔ | ✔ |
| Reply Reporting | ✔ | ✔ |
| Unique Click Reporting | ✔ | ✔ |
| CSV Exports | ✔ | ✔ |
| Contact Management | | |
| Unlimited Contacts | ✔ | ✔ |
| Unlimited Groups | ✔ | ✔ |
| Auto Update Feature | ✔ | ✔ |
| Five Personalisation Fields | ✔ | ✔ |
| Unsubscribed Contacts | ✔ | ✔ |
| Easy CSV Import | ✔ | ✔ |
| Auto Remove Non-Mobile Numbers | ✔ | ✔ |
| Copy & Paste Import | ✔ | ✔ |
| 3rd Party Import | ✔ | ✔ |
| Contact Search | ✔ | ✔ |
| CSV Exports | ✔ | ✔ |
| SMS Replies | | |
| Dedicated Reply Number | Optional | Optional |
| Keyword on 82228 | Optional | Optional |
| Configurable Auto Reply | ✔ | ✔ |
| Forward to Email | ✔ | ✔ |
| Forward to Mobile (via SMS) | ✔ | ✔ |
| Forward via HTTP POST | ✔ | ✔ |
| Auto Add to Contact Group | ✔ | ✔ |
| Email to SMS | | |
| Send SMS via Email | ✔ | ✔ |
| Unlimited Whitelisted Senders | ✔ | ✔ |
| Batch Email to SMS | ✔ | ✔ |
| Email to Group SMS | ✔ | ✔ |
| Sub Accounts (Advanced) | | |
| Sub Account Management | ✔ | ✔ |
| Unlimited Sub-Accounts | ✔ | ✔ |
| Auto Draw Credits | ✔ | ✔ |
| Sub Account Feature Lock-down | ✔ | ✔ |
| Shared Opt-out Management | ✔ | ✔ |
| Developer API (Advanced) | | |
| RESTful API | ✔ | ✔ |
| Software Development Kit (SDK) | ✔ | ✔ |
| Full Documentation | ✔ | ✔ |
| Custom Projects | | |
| Bespoke SMS Projects | - | ✔ |
| Security | | |
| ISO27001 Certified | ✔ | ✔ |
| UK Datacentres | ✔ | ✔ |
| 3rd Party Penetration Testing | ✔ | ✔ |
| SSL TLS v1.2+ | ✔ | ✔ |
| Customer Support (Mon-Fri 09:30-17:30) | | |
| Dedicated SMS Expert | ✔ | ✔ |
| Email Support | ✔ | ✔ |
| Phone Support | ✔ | ✔ |
| Live Chat | ✔ | ✔ |
"Using FireText as our SMS supplier has enabled us to have greater control over how we allocate and manage our SMS budget across each of our GP sites. The service provides us with an online portal where we can allocate SMS credits and view live SMS balances for each of our GP sites. Low alert threshold emails inform us when an account is running low and, if required, GP sites can purchase further credits themselves via their dedicated FireText account. Setting up with FireText was very quick and we receive regular reports showing GP site usage. The reports help us understand which practices are using the functionality and where to target any further support. GP sites can also use the service to raise awareness of their services and ongoing projects with the support of the CCG, which helps to keep costs down by sending SMS to patients rather than letters."