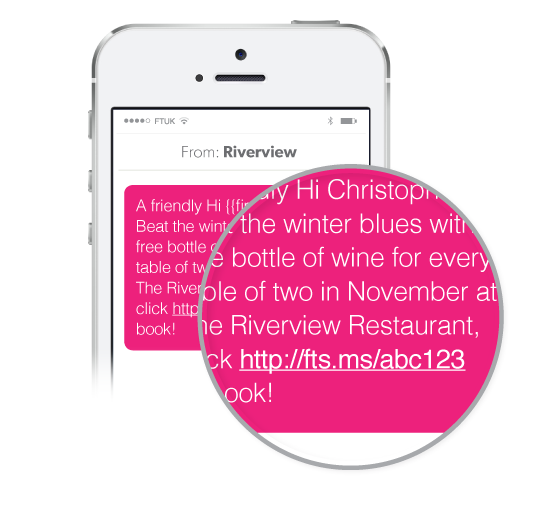 Track URL links
Get more from your SMS marketing campaigns by enriching your content with trackable URL links. Link to online content and add value to your customers.
By utilising SMS URL tracking, you can provide a clear call to action within your text message, which will help increase the engagement with your SMS campaign.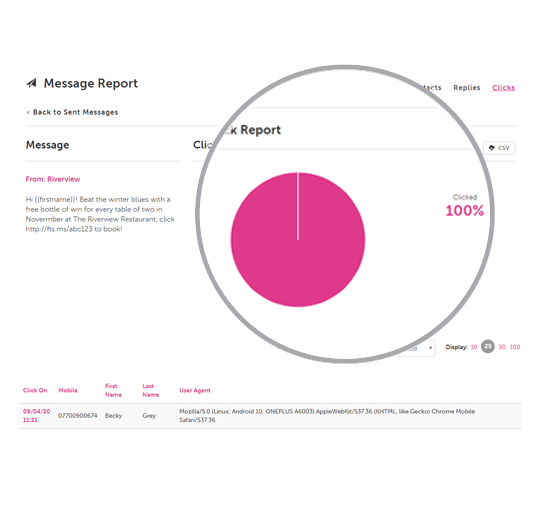 Get more data
When you send out a text message using our SMS tracker you can find out exactly who's interacting with your SMS campaigns, which provides valuable data for future campaigns.
Using the data you can download a CSV report of those who clicked and send out targeted Bulk SMS campaigns to increase sales for your business.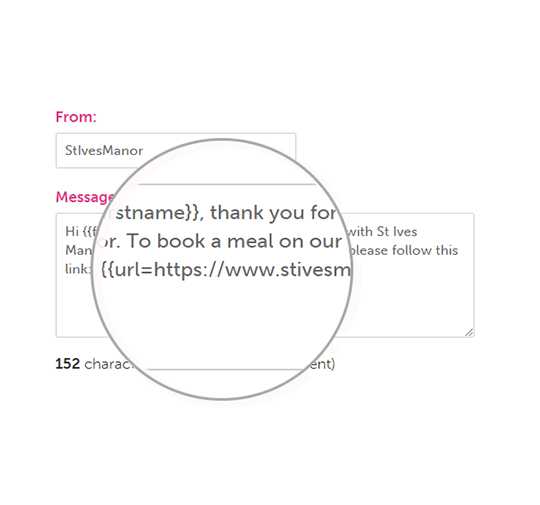 Save your SMS Characters
Not only are we able to track exactly who is clicking your links through our handy URL tracker. But upon sending we will shorten your link down to just 20 SMS characters!
This means you can take advantage of including a trackable link within your message, without having to waste those precious characters.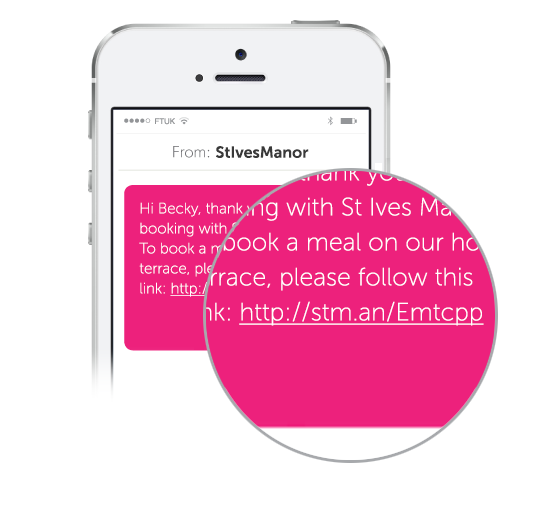 Personalise your SMS URL
If you already have an existing shortened URL or are looking to source one that is branded for your business, we can actually port these into our SMS Solution. This means you can utilise our awesome tracking features, while still being able to keep it branded.
If you want to discuss this further, please don't hesitate to get in touch with one of our friendly SMS Experts today!
Improve your business comms with SMS Tracking
You can make use of SMS tracking within a range of mobile marketing campaigns across your business. Whether it's increasing traffic to your website, building up your database of leads, or maximising sales, FireText can help.
Boost traffic to your website
The biggest benefit of including links within your SMS campaign is being able to increase traffic to your website.
As a business, if you send an SMS message out to your database you want to be able to track the success. Often marketing campaigns can consist of trial and error and this isn't an issue. By having a trackable link, you have a clear traceable call to action.
You will be able to see which campaigns received the most interaction, this could be down to the wording, timing or audience of your campaign and by including the trackable URL you can start to pinpoint the best combination for your campaigns. This means you will have an increase in traffic to your site, which will lead to more sales!
Target your SMS Campaigns
The SMS URL tracker will come in super handy when analysing your text message campaigns. You can download click reports which will highlight all of the contacts that clicked on your link.
This means using the click report you can upload more target contact groups. So as an example if you're a fashion retail store, who has sent out a bulk SMS campaign regarding the new knitted collection, you can pull a click report on all the contacts who clicked to the link. You can then use this click report to send out further campaigns, which highlight relatable items, such as new jumpers or lounge-wear.
This will help boost sales and ensure you are getting the best return from your campaigns.
Track your SMS campaigns in Google Analytics
As well as being able to track who clicked your link our URL tracker shortens any link down to just 20 characters, meaning you can use google analytics link builder without having to use several characters and send customers a long confusing link.
By integrating your SMS links with google analytics, you can open up a whole new level of tracking. You will be able to monitor the activity of your current or potential customers after they have clicked the link within your Google Analytics account.
This data will allow you to gain an insight into what your audience is interested in and if they spend longer on one page than another. Or alternatively, if there is a common page where you lose your traffic.
You're secure with FireText.