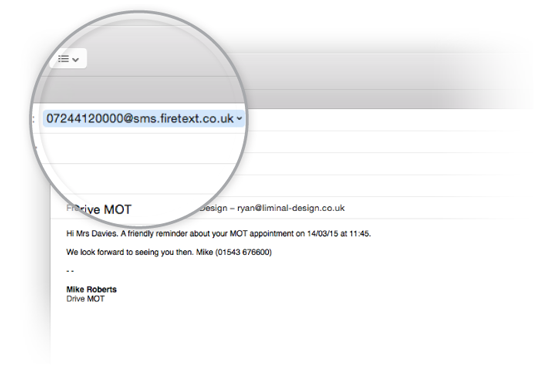 Transform your emails into SMS messages
Using the Email to SMS gateway, FireText instantly converts your email into an SMS message and delivers it straight to your recipient's mobile phone. They can reply directly and their response can go straight to your email inbox.
This is great for individual use and when managing a team. We can simply whitelist your team's email addresses and they will be able to send out SMS messages too.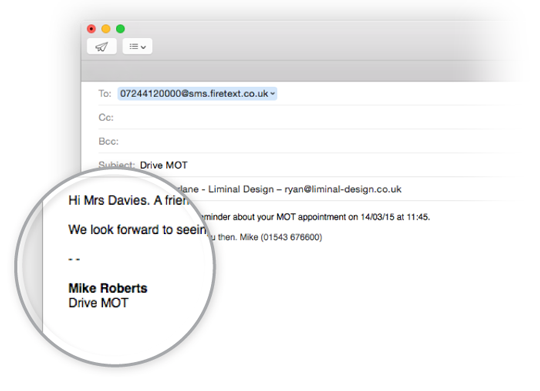 Send SMS from the comfort of your email
Send SMS while balancing your email comms at work, and do it oh-so-simply...
Create a new message for your contact (for example: 07700900999@sms.firetext.co.uk), add your sender ID to the subject line and bam... hit send! You can even cut out unnecessary content, such as your email footer, by simply finishing your message with a -- or ##.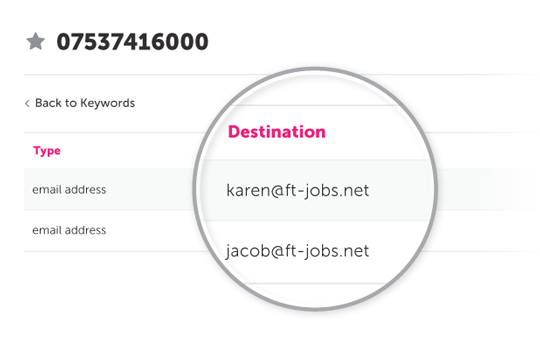 Forward SMS replies to your email
When a customer replies to your text, the message can be forwarded to your email. Continue the conversation without leaving your favourite email client.
Using our conversational Email to SMS add-on, you can even opt to pull through the conversation you've had with that recipient over the past few days, so you can pick up where you left off!
Top-rated Email to SMS features
Sending SMS from your email is easy and efficient. Our Email to SMS features make sending even smoother.
Cut out the email footers
Keep your messages concise. Control where your text message content ends by adding two hyphens (--) or two hashes (##). This stops you from sending your complete email trail or unwanted email signature.
Send out SMS from any whitelisted email
'Whitelist' an unlimited number of email addresses under one account, so you can easily manage your entire workforce.
Receive text message replies directly into your inbox
Forward your replies directly into your email and reply straight back from your inbox.
Send out text messages from any email
Forward your replies directly into your email and reply straight back from your inbox.
Pull through the conversation thread
FireText can enable 'chat days', so you can see the last seven days of your SMS conversation straight from your email.
Send PDF files via text message
Using Email to SMS, you can send PDF files within your text messages.
You're secure with FireText.
Email to SMS: Frequently Asked Questions
Can I send my text messages from more than one email address?
Yes. You can send from as many email addresses as you require, without the need for multiple FireText accounts. You simply need to 'whitelist' all the emails you wish to send from - this is simple to set up in your account.
Can customers reply to my SMS messages sent from my email?
Definitely. They can reply as they normally would to any other text message. You would simply need to ensure your SMS reply number is in the subject line of your email so that your message appears 'from' your reply number in the recipient's handset.
Can I reply to my inbound SMS messages via email?
Absolutely. You can have all of your SMS messages forwarded from your FireText account into your inbox. From here, you can simply hit reply as you would a normal email and your message will go right back as an SMS message.
Can I send SMS messages to a group from my email?
Yes. It's just like sending out an individual message, however, you need to slightly change the email domain, from including their phone number to the group ID. But don't worry, it's super quick.