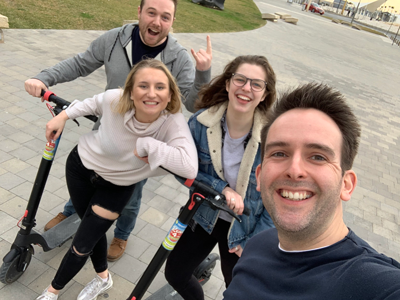 Join our lovely bunch of digital whizzes
FireText is a tiny team with a big purpose: to help businesses succeed, and have fun doing it. Our powerful SMS platform is used by organisations across the UK to effectively communicate with their audiences.
When you join FireText, you join a chirpy team of creative, data-driven, down-to-earth SMS experts. Our top-tier customer support, content advice and unrivalled security standards makes us a little different to your average Joe.
See Current Opportunities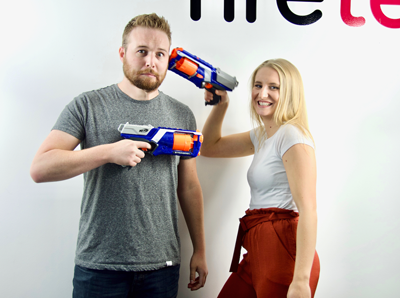 Discover the FireText perks (spoiler: amazing coffee)
We look after our team with benefits and good vibes galore. Most importantly, we want to help you to thrive in your career. Check out the perks of being a FireTexter:
The best coffee to fuel you
Fair wages (we're a Living Wage Employer)
Daily team walks
Team away day adventures
Personal Development Allowance (10 days a year)
We'll pay for your parking at our Cornwall office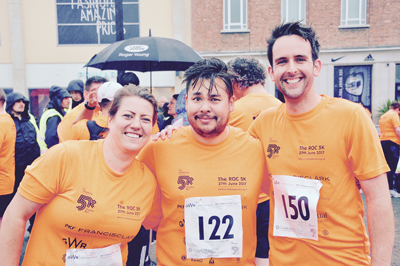 See what the team says...
Meg from Marketing says:
"I'm really happy at FireText. I've learnt a lot from the team in such a short period of time, and I've had a lot of insight into so many different businesses. There's a great work-life balance, a fun atmosphere and I always feel motivated to do my best."
Our Senior Account Manager, Alannah, says:
"I love helping out our customers. This role allows me to build relationships while also developing my marketing knowledge in a range of industries as we deal with a vast variety of different businesses."
Things we're most proud of :)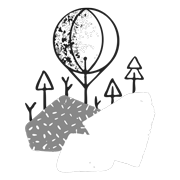 Officially Net Zero
We're a company with a big impact, but a small carbon footprint. As well as reducing our emissions, we offset our footprint so that every SMS sent through us is net zero.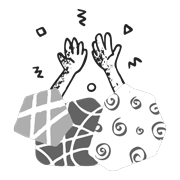 Supporting our community
From sharing business knowledge with aspiring start-ups to starting our own Foodbank Thursdays, we look out for our local community in whatever way we can.
UK's fastest growing tech company
We're proud to be the fastest growing digital supplier in the UK's public sector, as recognised by Tech Market View in their 2021-22 Digital Future Review.
Current opportunities at FireText
We're always on the lookout for fresh talent to join us. If you're keen to play a part in our fast-growing company, bring your amazing skills and your finest jokes. Check out our current opportunities below.
A bit about the role:
We're looking for a down-to-earth individual with an enthusiastic personality to guide our customers through using our text messaging platform, and importantly helping businesses of all shapes and sizes to improve their communication. Building on our success as the top-rated SMS provider, you'll deliver a top-notch customer experience, manage timely touch-points, and uncover opportunities for both the customers and FireText to grow together successfully.
In this role, you'll mainly be analysing existing customers and looking for opportunities to introduce additional communication strategies into their business. Maybe, they send some marketing messages, then introducing customer-service boosting transactional messages. Maybe, they are not quite hitting the mark in showcasing their brand. Maybe, one department is utilising our successful communications, and another could benefit.
Acting as the first port of call for support and dazzling users with your winning personality, you'll work as part of our lovely team to support customers in boosting their businesses. You will work alongside the entire CSM team and support with onboarding new customers, as well as supporting day-to-day account queries as needed.
Our platform is designed to be intuitive, but you'll need excellent problem-solving skills and the technical confidence to click around a web-based platform. On a day-to-day basis, you'll analyse our customer base and data trends to develop new tools and information to feed back to clients.
This fun and fast-growing industry is increasingly competitive, so you'll be developing, implementing, and forever improving strategies for customer retention – such as building perfect message copy for businesses to "wow" their customers.
A bit about the role:
Our small team in Cornwall enjoys an energetic and supportive vibe. Being a marketing company, we often join forces on additional duties, such as sharing marketing ideas, creating content and providing support. Although the primary focus is on customers, this role also gives you the chance to build your marketing experience.
Far more important than your experience is your drive and determination to succeed – we want to find the right team member to join our friendly team. So, if chatting to customers, solving their problems, and building great relationships sounds like your kind of fun, get in touch.
The sort of things you'll do:
Act as a point of contact for enquiries on email, phone, and live support chat.
Deliver outstanding customer service and demonstrate why FireText is the best choice for both new and current customers by consistently portraying the company's positive, can-do image.
Analyse and review customer insights to identify ways of improving customer retention.
Create and manage the implementation of customer retention projects.
Build strong relations with new and existing customers.
Provide application support and guide customers through any technical challenges they may face.
Get more clients to buy the services by listening to their needs, engaging in solutions-focused conversation and building rapport.
Advise and guide customers on their SMS communication strategy.
Support the marketing team with marketing activity to attract new clients.
Main benefits:
Personal Development Allowance – grow your skills.
Daily team walks – we have a lovely campus to explore.
Amazing coffee.
Team away day adventures.
Fair wages (we're an accredited living wage employer).
We pay for your parking at our office on Tremough Campus.
Your Skills:
The successful candidate will understand account management, sales, marketing or business development and have a keen interest in mobile marketing. Most importantly, you'll have the enthusiasm to take the next step in your career.
Your customer friendliness skills need to be first-class – we are looking for someone to go the extra mile. Good written communications and a basic understanding of digital marketing techniques are a must.
Being organised and self-motivated is important, as well as being adaptable in a fast-growing and changing environment. You must be a quick learner and self-motivated to work independently when required. Ultimately, your enthusiasm to work in a vibrant business, a willingness to learn and a positive attitude are the most important factors.
Essential Skills:
Excellent communication skills
Basic understanding of digital marketing
Analytical thinker
Driven, enthusiastic and a great team player
Friendly, positive self-starter
Ability to self-manage and use initiative
Strong work ethic
Awesome sense of humour
Sound like your cup of coffee? Email us as iwantajob@firetext.co.uk