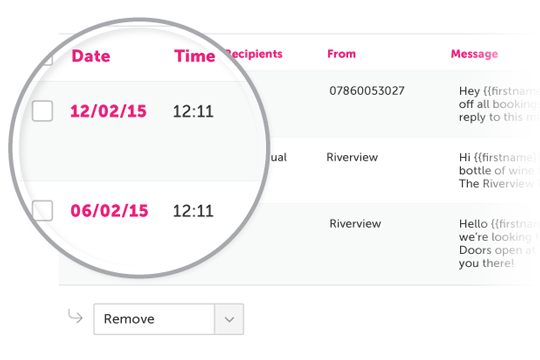 Schedule in advance
FireText makes it really easy to schedule your SMS text messages in advance. In fact, all it takes is for you to compose your SMS message, then you simply need to select the time and date and you're all set to send the message!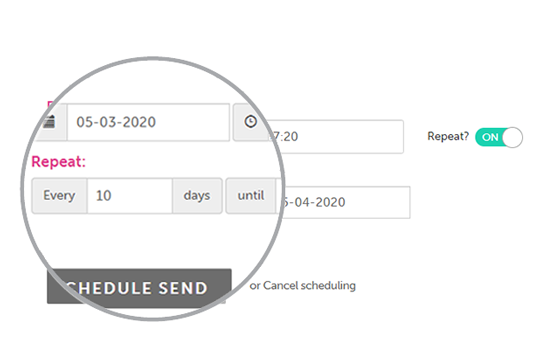 Repeat your scheduled messages
You can even choose to repeat your scheduled message, just once or multiple times. This is perfect for reminder text messages, you can have the text go out a week before as well as the day before an event.
It's super simple, it's just a case of entering how often you want the text message to repeat and an end date of when you want it to stop.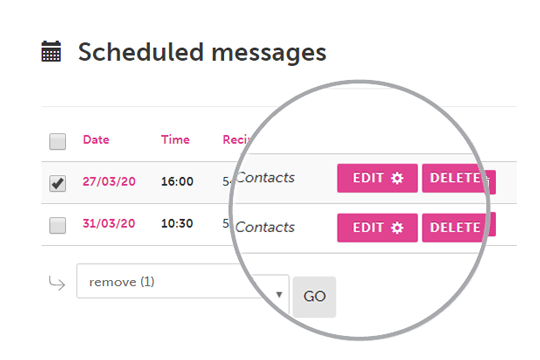 Easily edit and cancel your scheduled messages
Once you have scheduled your SMS message you are able to easily manage these within the 'scheduled' tab on your FireText account.
Should you want to make any changes, or cancel the scheduled message before it sends, it can be done in a matter of minutes via the FireText app, which is extremely user-friendly!
Scheduled text messaging is perfect to ensure your business processes are efficient and effective. You can reduce the number of missed appointments, as well as boosting sales and increasing repeat customers.
Appointments
SMS messaging is the perfect way to have a direct communication with your contacts and it's an awesome resource to send out appointment reminders.
Whether it's for recruitment companies, estate agents or healthcare professionals, it is important appointments are not forgotten about and SMS reminders will help to reduce the number of missed appointments.
For example you could schedule a message a week before the appointment then use the repeat function so it will be sent again the day before the appointment!
These messages will send behind the sense, making it efficient and therefore the perfect way to save money and time for your business.
Events
You could use the SMS scheduling tool to help build excitement and boost sales for your upcoming events.
For example, when a ticket purchase is made, you could have messages scheduled leading up to the event which release more information. E.g. a music event could release more acts that are playing.
This could be done directly through our texting app, alternatively, you can choose to make use of FireText's scheduling tool via the API or through one of our awesome integrations.
Get in touch with a member of our friendly team today to discuss your different options.
Reminders
Not only is the scheduling feature great for events and appointments, but it's also the perfect text message reminder system that can be used across all different industries.
For example if a customer is on an instalment plan you can schedule a repeat reminder message, notifying them when their next payment is due. By sending the text you are reducing the chance of missed payments in an efficient way!
The FireText SMS app is also a great resource to send out your renewal reminders, whether you're a garage and you want to schedule an MOT reminder or a gym highlighting memberships that are due to expire, the scheduling tool will be the perfect feature for you.
Frequently Asked Questions
Can I schedule my SMS message to send at a later date?
Yes! FireText's awesome scheduling tool allows you to schedule your text message to go out whenever you want!
It's as simple as composing your SMS message and hitting schedule now rather than send now, then all you need to do is select the date and time and you're all set to go.
Can I repeat a scheduled SMS text message, e.g. a weekly reminder?
It is really easy to send out repeat text messages, that are perfect for weekly reminders using the FireText SMS Scheduling feature.
All you need to do is choose how often you want the message to go out and the end day e.g every 7 days until 1st June 2020.
Can I cancel a message I have already scheduled?
Yes, you are able to delete messages that are scheduled, this can be managed under the 'schedule' tab. As long as you SMS text message hasn't been sent, you will be able to go ahead and remove it.
You can do this by hitting the pink 'Delete' button.
Can I edit a scheduled text message?
You are able to edit your SMS message as much as you want before it's send time and date. Whether you are looking to change your message content or update the time this can all be done under the 'schedule' tab within your FireText account.