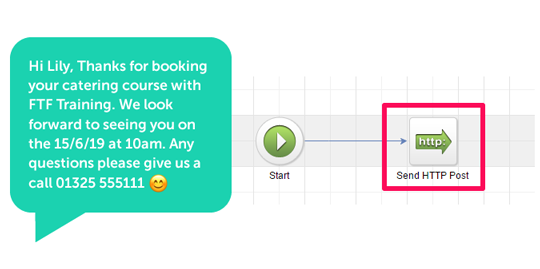 Send SMS within your Infusionsoft Campaigns
We have a Direct integration with Infusionsoft that uses our API and is super simple to set up. You can create your campaigns and then with our integration, using the Send HTTP Post Element you are able to include SMS!
It is simply a case of building out your campaign sequence and then deciding where you would like your customers to receive a text. We have a really handy guide here, that will take you through step by step of how to set this up.
Automate SMS from Infusionsoft with Zapier
FireText offer an awesome automated integration with Infusionsoft via Zapier that allows you to easily connect the two apps together with little development needed.
It is a matter of connecting your FireText and Infusionsoft account within Zapier then creating triggers and actions and your set to go. We have a really handy blog here, that will explain how to set this up and outlines some examples of how your business could use it.