Communicate with applicants via SMS
You can easily send out both bulk and individual SMS campaigns directly from your itris account using our handy integration.
Effective communication with applicants and contacts is key. Nowadays people are more likely to interact via texts, which is why quick SMS reminders to applicants about upcoming interviews or job offers are the perfect way to get in touch.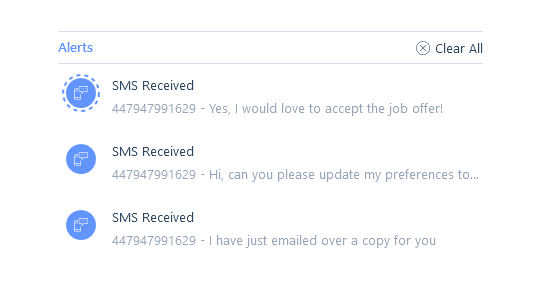 Interact with Applicants using two-way SMS
FireText offer an awesome two way integration with itris that enables you to interact with all record types through two-way SMS communication.
By utilising one of our dedicated SMS reply numbers, you can instantly send a single or bulk text message campaign and your recipients can easily respond directly back!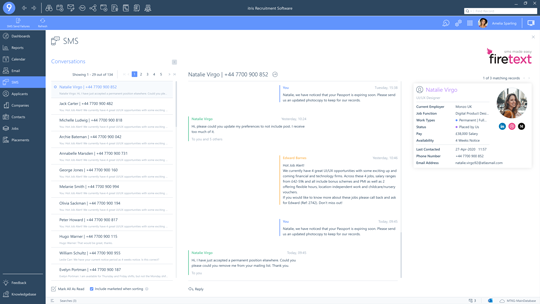 Easily Manage Communications across your team
FireText's SMS plug in within itris allows you to view the whole conversation history in your recipient's record, so it's easy to track the two-way SMS conversation that's happened previously.
As such you can easily pick up a conversation where you left off, or another agent can jump in and assist if required.
You're secure with FireText.
Why FireText?
itris 9 recruitment software offers recruiters worldwide the optimum tools they need to be successful. Its integration with FireText allows recruiters to engage effortlessly with applicants and contacts and help improve relationships.
With text messaging being the go-to communication platform for an instant and direct delivery, SMS has become invaluable within the recruitment industry when delivering job offers or upcoming interview reminders and the FireText SMS plugin within itris 9 allows you to implement SMS easily and efficiently.
Expert Software Engineering
Internal Centre of Excellence
Professional Customer Service
Cohesive Business Approach
Software packed full of features
Specialist training

Trusted SMS Provider
FireText work with a number of businesses of all different sizes and we are proud to be the UK's top rated SMS company.
Read our reviews

Outstanding Support
Our friendly team of UK based SMS experts are on-hand to guide you through every step of your campaign. If you get stuck, just ask!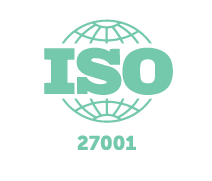 Safe and Secure
We take data security really seriously at FireText and are ISO27001 certified in order to meet our strict due diligence for security and redundancy.
View all of our security badges here