Maintaining an engaged audience or customer base means communicating with them through their platform of choice. For the social media savvy, that may include public or private Facebook groups or engaging on Twitter. It could also include connecting through forums or communities like Quora or Reddit.
Not everyone's hip to social media or engaged in online communities, though, and reaching out to them can prove to be more difficult. What should you do when only a portion of your potential customer base is tech savvy?
Sixty-one percent of adults in the UK have smartphones, but that same study shows that 93 percent have a cell phone. That's more than 20 million potential customers that don't have smartphones and aren't easily reached through traditional mobile platforms.
Here's the good news: Companies can gain a significant advantage against their competitors through the use of SMS marketing.
This is particularly important in the highly competitive industry of buying and selling websites. Gaining access to an older, affluent crowd that competitors aren't currently targeting can be a great growth channel for brokers looking to scale their business.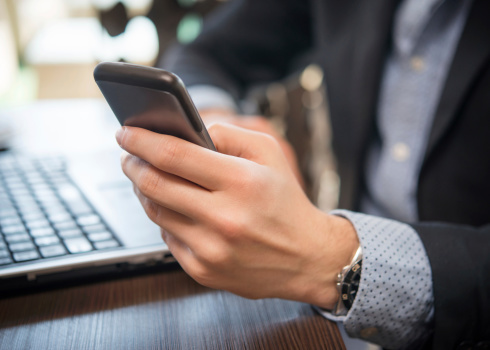 Here are a few reasons your customers may prefer texts to other (more aggressive) forms of marketing:
1. The customers don't have smartphones.
As mentioned, more than 20 million adults in the UK don't have access to smartphones. Companies that take advantage of SMS marketing here have access to an untapped market their competitors may not be currently targeting. This is especially important if the target audience is 50+ years old.
2. The customers need immediate access to time-sensitive offers.
There's nothing worse than having to refresh a page over and over again to see if the offer is finally available (or missing out on a deal because you were too late). Allowing customers to opt-in to SMS marketing lets them set-and-forget until the offer is ready.
3. The customers travel regularly.
They may not check their email as regularly, but texts can be important while on the road. Who doesn't immediately reach for their phone as their plane lands? Or have it available between flights? Sending an SMS might be the best way to reach a busy executive who rarely spends time at her desk.
4. The customers have self-selected to be contacted via SMS.
As SMS marketing expands, encouraging customers to self-select their particular interests allows for more narrow, specific targeting. This gives marketers an opportunity to deliver the right products to the right people at the right time.
In selling online businesses, it's important to engage customers through those channels they use most often. Giving them access to newer listings via SMS is a way to let your highly engaged audience have first dibs on new listings and websites for sale as they become available.
This is particularly important for five-figure and six-figure sales. Contacting customers through their preferred platform shows that you value their time, and they'll be more likely to stick around and continue to do business with you.
Maintaining relationships with high-value clients remains a priority for competitive businesses in 2015, and one of the best ways to do this is to respect a customer's preferred method of communication. Make sure you don't forget those potential customers who don't have smartphones, and incorporate SMS marketing into your next campaign.
Justin Cooke is a partner at EmpireFlippers.com, where they help their clients buy and sell online businesses.